Siamosaurus (name meaning: 'Siamese Lizard') is a genus of medium sized Spinosaurid; Spinosaurinae theropod dinosaur; that lived in the Southeast Asia; Thailand, during the Early Cretaceous period. The species only known from extremely fragmentary fossils.
Discovery & Naming
Edit
The Sao Khua Formation, is the location of where the first Siamosaurus fossils were discovered; French paleontologist Éric Buffetaut and his Thai colleague Rucha Ingavat described a set of fossil teeth recovered from the Phu Pratu Teema locality of the Sao Khua Formation, in Khon Kaen Province. In 1983, they reached no conclusion as to what animal they originated from, their opinion being that the specimens belonged "either to an unusual theropod dinosaur, or to some unknown crocodilian". In 1986, a reassessment of the remains by the same authors attributed them to a new genus and species of spinosaurid theropod [1][2]
The theropod's name additionally honours Thai geologist and paleontologist, Varavudh Suteethorn.
Description & Paleobiology
Edit
Siamosaurus only known from partial tooth fossils;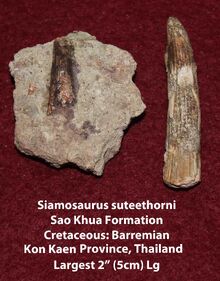 and thus Siamosaurus's body size and weight are uncertain, it has been estimated to grow between 5.2 to 9.2 metres (17 to 30 feet) and weighing around 1 ton.
This theropod was a member of Spinosauridae family; more specifically it belonged to an inner sub-group, classified as Spinosaurinae.
The special case of Siamosaurus, is the theropod's fossil evidence about its dietary practices. This theropod gave a direct conclusion about the Spinosauridae; specifically Spinosaurinae were indeed generalistic Carnivores, as apart from Irritator (another member of Spinosaurinae) and Baryonyx (a more basal spinosaurid; Baryonychinae) valid evidence about Spinosaurid diet is extremely rare. The particular case of this spinosaurid; concluded in the Sao Khua Formation of Thailand, that isolated tooth crowns from Siamosaurus have been found in direct association with sauropod remains, indicating potential predator behavior and/or scavenging. [3][4]
Classification
Edit
Spinosauridae


Baryonychinae


References
Edit
Community content is available under
CC-BY-SA
unless otherwise noted.