We're Getting Mutants in the MCU - The Loop
Play Sound
The Triassic Kraken is a speculative genus of coleoid that lived in Nevada during the Late Triassic.
History
[
]
Triassic Kraken was first noted in Nevada fossil beds with large suction cup prints in the sand and a beak found around a large scattered Shonisaurus carcass. Because the skeleton was scattered in a peculiar manner in the deep ocean, McMenamin and his colleague, Dianna Schulte, proposed that the scattered bones were a work of the squid making its tentacles out of the Shonisaurus bones in a 2011 GSA meeting, which was folowed by a 2012 magazine article, another GSA abstract in 2013 and a book draft in 2016. He theorizes the mass accumulation of Shonisaurus in the Berlin-Ichthyosaur State Park, Nevada were caused by a massive intelligent cephalopod, citing the arrangement of vertebrae, which he thought mimicked cephalopod suckers. He further writes that this formation is an attempt at a self-portrait.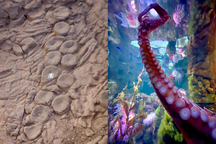 Online, Black (2011), Myers (2011 and Prothero (2011) criticized this, their main issue was that natural processes could easily explain the orientation of the remains and the overall lack of evidence for a massive, school-bus-sized, intelligent squid that was killing ichthyosaurs and using their remains to create self-portraits. McMenamin places the squid in coleoidea and further, decabrachia. Paleontology student Tyler Greenfield noticed McMenamin failed to consider if Triassic coleoids has biserial suckers. McMenamin compares the vertebral arrangement to modern coleoids, but not fossil taxa. The only known fossil coeloids with biserial suckers are belemenites and phragmoteithida. Greenfield states it is not impossible for a ghost lineage of biserial sucker-bearing coleoids to have existed during the Triassic, but there is no evidence of a ghost lineage and the resemblance to squid suckers appears to be coincidental and manipulated to support McMenamin's theory.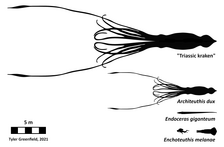 McMenamin also states it was 30 meters long, which conflicts with Triassic coleoids' average size of 1 meter or less. The first large coeloids do not appear until the Cretaceous. The Cretaceous Enchoteuthis is the largest known coeloid - it was ~2 meters long. Additionally, Endoceras' largest size is ~5 meters, with unconfirmed reports citing ~10 meters. The largest Architeuthis is just shy of 16 meters. All of these massive cephalopods, coleoids, are not comparable to the proposed 30-meter-length. Greenfield also states this size is not supported by any evidence, and would be very implausible. Greenfield places the "kraken" as more akin to cryptozoological cephalopods such as Bernard Heuvelmans' 91-meter-cephalopods based on severed arms and sucker marks incorrectly scaled to a tremendous size and other mystical squids reported to be hiding in the deep oceans. McMenamin's theory is now considered irrelevant and highly implausible.
Vertebrae from the Late Triassic of Switzerland with similar arrangement indicates that the cause of the phenomenon was widespread, but is not from a massive squid.
References
[
]